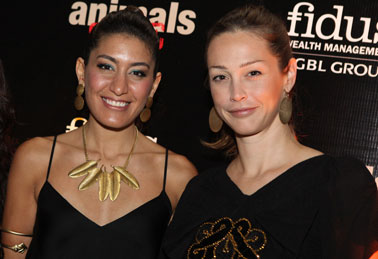 On Thursday, 2 June, the majestic garden of Palais Mouawad was transformed into a surreal forest for the second annual Animals Lebanon Gala for Change.
Selling out two weeks early, the event was a successful fundraiser to support the vital work of Animals Lebanon.
Hosting His Excellency Mr. Ziad Barroud, Her Royal Highness Princess Ghida Talal of Jordan, and a diversity of parliamentarians, business leaders, and animal lovers, the Gala For Change was the perfect platform to build support for the launching of the Animals Lebanon campaign to enact national animal protection and welfare legislation.
The theme this year was ?Go Wild? ? and a wild night it was indeed featuring elements of tribal Africa and Amazonian Brazil. A vegetarian dinner was served ? an innovative change from the standard classic menu ? giving guests a scrumptious taste of how delicious and satisfying it can be to go green!
The event was opened by the charismatic speech of Animals Lebanon President Lana El-Khalil Bacha, where she talked about the achievements of Animals Lebanon over the last two years, stressing on the importance of everyone?s collaboration for the animal welfare law campaign. A short movie followed, featuring some of the most difficult rescues of the year as well as inspiring images of the rescued animals after medical treatment and rehabilitation from the organization. Seeing the abusive conditions so many animals are kept in reinforced the need to have strict regulations and laws to protect animals.
A special thanks to our Platinum Sponsor Fidus Wealth Management and Gold sponsor IDdesign, which led the way in making this night such a success.
A big thank you to our Silver Sponsors Pepsi, La Villa, Royal Canine, and METS.
Thank you as well to our Bronze Sponsors Arope Insurance, Le Veto, Transmed, Ceramics N? More, and Pet Care Veterinary Clinic.
Thank you to our In-Kind Sponsors Fluid, O de Rose, Future Graphics, Enotica, Cat & Mouth, Palais Mouawad, Salim Rached, Volta ao Mundo, MIX FM, Al-Akhbar, and Time Out.
Thank you to all of the companies providing valuable gifts for the raffle ? Karma El-Khalil, MEA, Four Season Hotel, Chez Sophie, Le Maillon, Baltazar, Samsung, SperCali, Boho, Flore, Simon Mondelek, Smarties Bags, Sylvie?s, and Green & Glam.
To both our sponsors and our guests - we thank you enormously for giving so generously and endorsing the belief that animal welfare is important to our society. Such a strong and supportive presence reaffirmed for us the need to make the Gala for Change an annual event - we look forward to seeing you all next year.
Click here to view photo album of the evening.