I was walking home from BourjHammoud when I spotted Moosh, a tiny kitten no more than a month old, sitting helplessly in the middle of a car park. His hind leg was badly damaged, probably the result of a motor collision, and he was struggling to drag himself along by his front paws. ' said Peter.
Along with looking frightened and starved to the point of death, he wore an expression of utter bemusement. He simply had no idea where he was. But there was life in his eyes.
I went into an ice cream store and took a plastic bag, which I tore open and wrapped his body in. I must have looked quite a sight carrying this little kitten the 3 miles home in my arms. Moosh did not seem to care, only pleased that someone was finally paying him some attention.
When I got him home I tried to feed him and give him some water. But even in his weakened state he just wanted to play, pulling himself around my balcony with the damaged leg lagging behind.
I called Animals Lebanon who sent round volunteers with proper food and some emergency antibiotics. We made him a makeshift bed in a shoebox (he being no bigger than a child?s foot in size). Even at bed time he did not want to be by himself so I brought into my room and lulled him to sleep.
First thing in the morning a volunteer from the charity came round and took him off to the vet. We decided that he needed round the clock care and so he is currently being fostered by a kind lady who can keep an eye on him at all times.
Above is one of the stories of the daily rescues we are getting, it is kitten season and we need your help. Moosh and many others are up for adoption.
Moosh was rescued by Peter, an animal lover in Lebanon.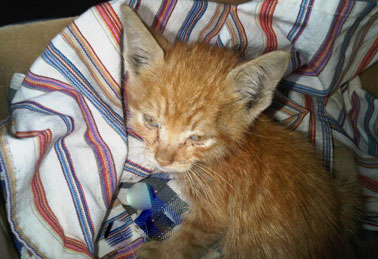 Moosh just rescued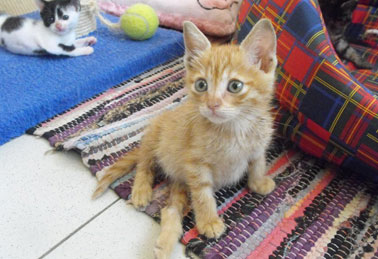 Moosh at his foster home