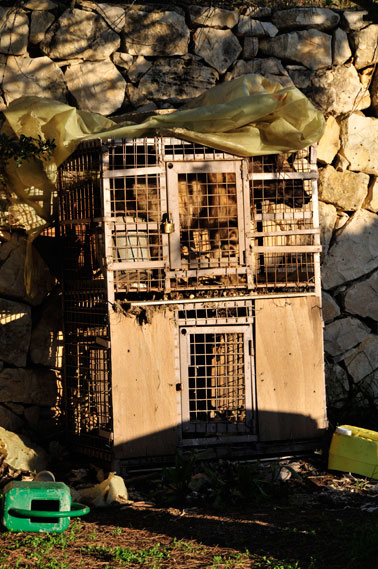 We received a phone call from a man, explaining that he had a hyena that he wanted to give us. He said the hyena, Sara, was located in the Saida area and needed our help, but would not explain on the phone the exact location or why he even had the hyena.
Arranging to meet later that day, we were told to meet in a different location and a worker would drive in front of us to take us to the hyena. Driving through the hills outside of Saida, we entered a large gated piece of land covered in orange trees with a small house on the top of the hill.
Tucked behind the house against a brick wall was Sara's cage. It measuredonly 60 cm high, 60 cm wide and just barely one meter long. Far too small for her to stand properly and so narrow that the skin on her nose and tail was raw from rubbing on the cage when she managed to turn around.
A terrible smell grew stronger as we approached and we realized the source - the carcasses and skeletons of dozens of dead chickens were inside and surrounding her cage. The hyena was extremely stressed, moving left to right in its tight space.
The worker explained that another hyena had been kept in a cage beneath Sara's, but had died some weeks before. He believed it was Sara's brother as they had both been captured from the wild at the same time. There were parties and events at the property, and the hyenas had been kept there to amuse guests.
We had hoped to come see Sara's situation, and come back the next day so we had more time and day light, but after seeing her terrible condition and that another hyena had died in the cage beneath her, we needed to act immediately.
Improvising on the spot, we made some calls to and arranged for some equipment and a moving truck, which finally arrived after two hours just as the sunlight was fading. Having been confined in an abandoned field, the she was very scared of people. So we covered the entire cage with a tarp to reduce her stress and loaded it onto a ventilated truck. Darkness had fallen but we needed to remove her to a safe location. Fortunately, we still had a good relationship with one of the nearby zoos we had closed down a year ago and the owner agreed to provide the largest enclosure as a temporary space for Sara.
The enclosure was being prepared by the owner as we drove to the zoo. We arrived and quickly unloaded the heavy rusted cage, positioning the door of her cage to the door of the enclosure and waited. An hour passed and she didn?t leave. She had been in this small space since she was one-month old and was terrified of the outside world. It became clear the hyena had never walked before.
After two hours she finally made up her mind, quickly jumping from her cage into the enclosure, then staring back at us and the cage that she had been kept in for her entire life.There was a moment of silence when, seeing her walk for the first time, each of us thought of the profound suffering she had endured.
Sarah is doing much better now but is still very scared of people. Her life in that tiny cage is now over and she is now part of a group of hyenas that will soon be sent to a sanctuary.
Donate now and you can help this hyena who has suffered so much