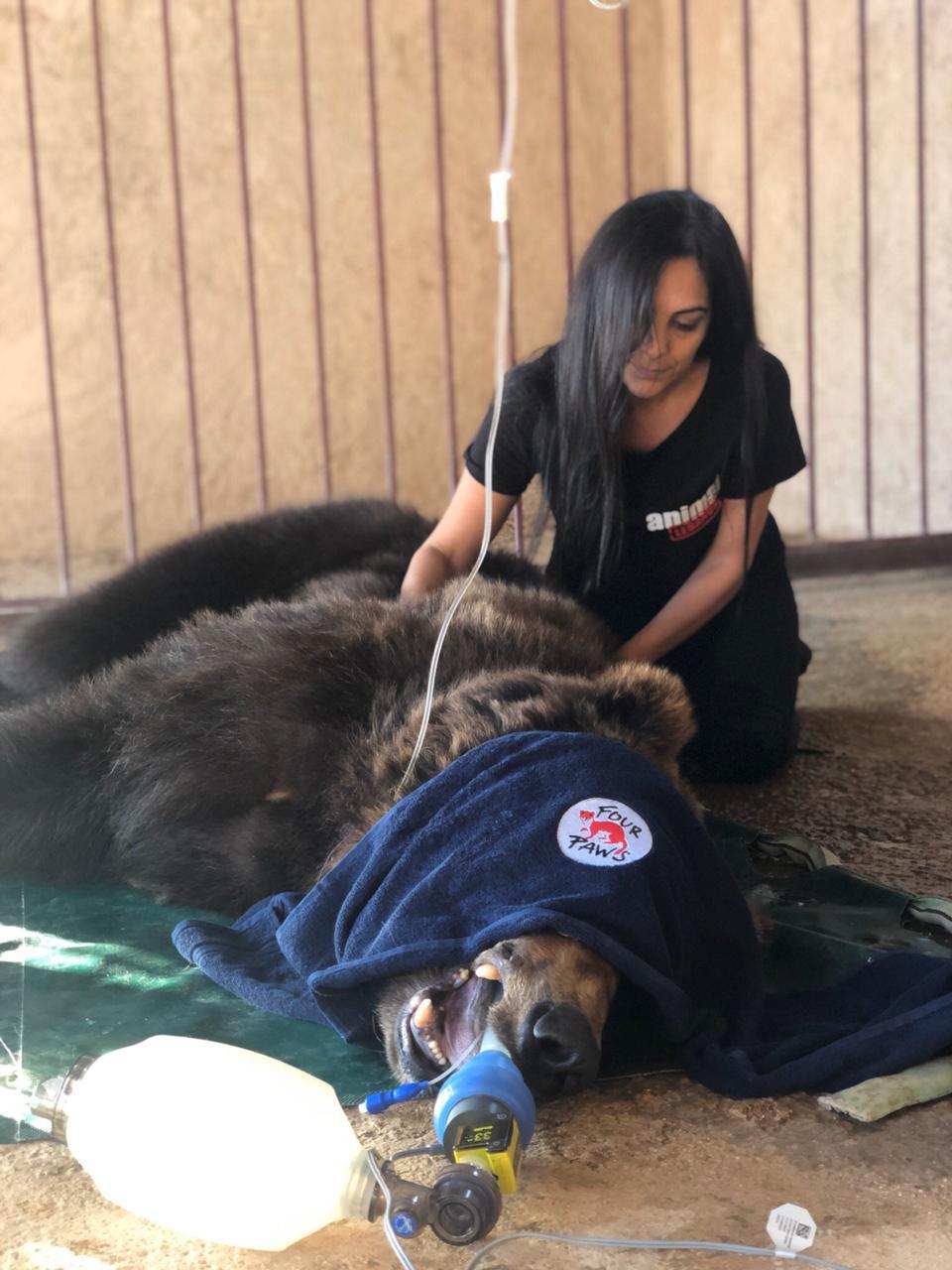 For more than ten years, these two Syrian brown bears were trapped in a zoo in southern Lebanon.
After seeing their poor conditions, we could not leave them. The bears were kept separate in small empty cement cages. One had a tooth painfully protruding through his lip requiring medical care. They were both malnourished and underweight.
The only way to free them would be to convince the owner that animals deserve better. We could not give up, but we also knew that with all the problems in Lebanon reaching the owner would be the only way to save them.
Finally, the owner understood and agreed to turn Homer and Ulysses over to Animals Lebanon so we could send them to a sanctuary.
The Wild Animal Sanctuary in Colorado agreed to take both bears and provide them with as natural of life as possible. The sanctuary cares for more than 650 lions, tigers, bears, wolves and other animals – including a fox and wallaby rescued by Animals Lebanon.
Four Paws agreed to assist with the care of the bears and help with the cost of the trip to the sanctuary.
A first attempt was made to get them to the sanctuary. But the collapse of Lebanon, government resignation, roadblocks, protests, and banks freezing assets forced their trip to freedom to be delayed.
A second attempt was made and flight scheduled, then coronavirus and COVID restrictions closed the Beirut airport. Their trip was again forced to be rescheduled.
Finally everything fell into place!
The airline was booked. Transport trucks arranged. Paperwork finalized. Four Paws veterinarians here to help. Officials on standby.
Only late the night before the flight did we get final confirmation – the trip, their freedom, was happening!
Weighing more than 130 kilograms, the bears were darted to sedate them. Then a quick medical check before being moved into large metal transport crates. It took nearly three hours of work, but the bears were finally loaded onto the air conditioned truck and we drove to the Beirut airport.
The bears flew from Beirut with Emirates, then transited Dubai before landing in Chicago. After all of the formalities and paperwork they were driven to the sanctuary.
Homer and Ulysses have now been released into temporary holding enclosures within the habitat so they can acclimate and their health can be assessed. They will then be released into a 103 acres (416,000 m2) enclosure where they can roam free with other bears.
Their rescue was only possible because of your support! Thank you to everyone who helped make this journey possible! The Wild Animal Sanctuary, Four Paws, Emirates, Karmagawa, and all of our supporters who so generously donated.
Your support is our lifeline – and for many animals the only hope. Homer and Ulysses are now in their new homes, but the other wild animals still need our help.
Donate now so other captive wildlife gets a second chance in a sanctuary.
#lebanon #beirut #toughtimes #bears #epicjourney #animalwelfare #animalrescue #donatetosavelives #animalslebanon