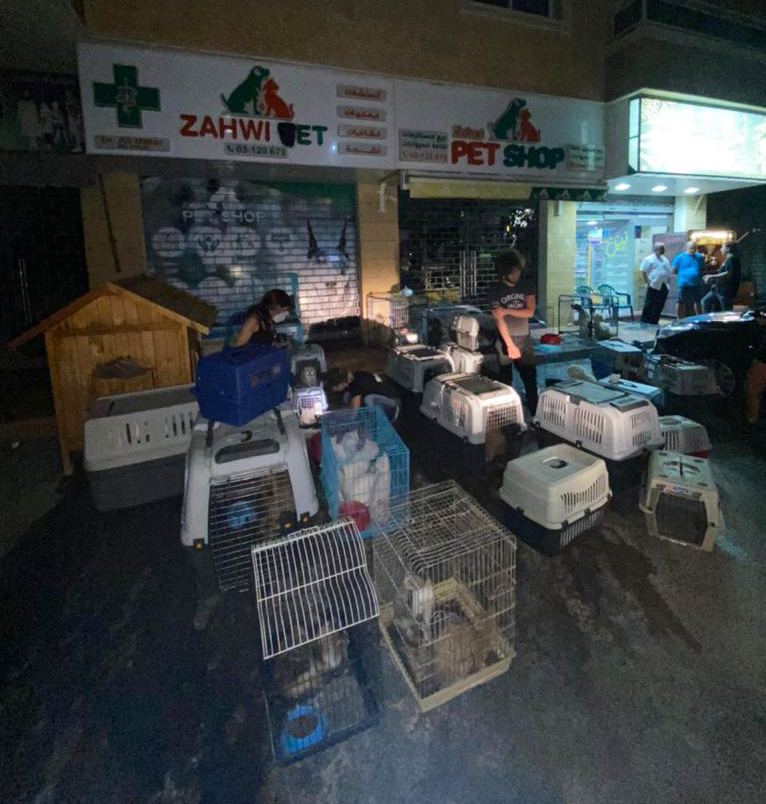 Another win for the animal welfare law.
On September 3 afternoon we received a call from police. They were about to close an illegal pet shop with nearly 50 animals suffering inside & needed our help. The shop, Zahwi Pet Shop, is located in southern Lebanon city of Baraachit. Half of our team along with the BETA Lebanon team started two hour drive from our office in Beirut to save the animals.The others stayed behind to set up holding cages & get ready for animals.
The scene was absolutely shocking… Dogs and cats stuffed into crates. Animals without food or water. Animals covered in their own waste. Sick animals. Dying animals. The smell was horrendous. It was not possible to know how many animals were there, there was no electricity or lighting. We dug through the rooms & looked though crates. Some animals were running loose. One boarded up in a wooden crate. Another tied in a bathtub.
44 animals were found and removed.
Once the last animal was out the authorities officially sealed the shop. They were given a chance to breath, make sure all cages secured, then loaded onto transport truck for a long drive back to Beirut. Cats came to our shelter & dogs went to BETA's care. It was nearly midnight by the time we got back. The cats were moved into holding cages to better monitor them. The most urgent cases were rushed to the emergency vet. Sadly, two did not make it…
The next morning the rest of the cats got medical checks. They are settling in, resting, eating and drinking, & many have a long recovery. All of these animals were saved because of the animal protection and welfare law. We will continue to follow up on the legal case. We understand the owner has been arrested & we will fight to make him cover the costs of this rescue according to the law. We need your help now to care for these rescued animals and pursue this case.
Your support is our lifeline and their only hope.
Thanks to Lebanese Vet Syndicate, Ministry of Agriculture, Attorney General Ramzi Farhat, State Security of Bent Jbeil, Ghina Nahfawi and Adnan Labban.