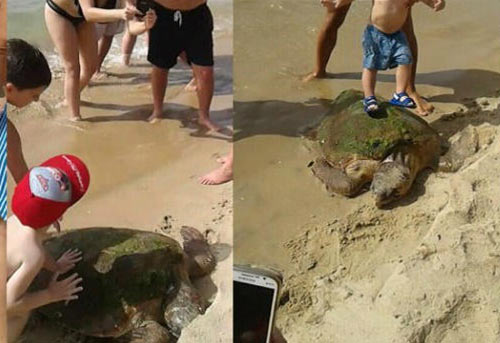 This sea turtle was dragged from the water south of Beirut, used so people could take selfies, and repeatedly hit on the head.
Animals Lebanon is assisting the Ministry of Agriculture and Civil Defense to make sure this sea turtle does not die from this unnecessary, avoidable, and illegal cruelty.
The turtle has been given antibiotics and he is being taken for x-ray of his head. The damage is visible and evident - the blows and trauma he suffered have broken through the top of his head, and water from the sea has reached his sinus cavities. Hopefully the x-rays can rule out further damage and that the blows did not affected deeper into the skull.
We are consulting with the International Zoo Veterinary Group experts to make sure the turtle gets the necessary care. Check back to see the outcome of the vet visit.
So sad that this is happening during World Sea Turtle Day...
You can read more at -
http://greenarea.me/…/sea-turtle-lebanon-victim-selfie-gre…/
https://newsroomnomad.com/selfie-culture-marine-turtle-pul…/