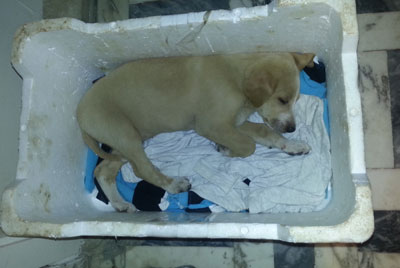 2014 started out as a very busy time!

In January we received 502 requests from the public for help with companion animals. An almost overwhelming number but we were able to provide assistance in every case.

Some had animals had been poisoned or shot. Others were found abandoned or lived their entire life on the streets. But they all needed help.

Gloria was just one example. This young puppy was living on the streets when she went looking for attention in the wrong place. When Gloria was less than two months old she was attacked by a woman who wanted Gloria out of the area. Gloria's cries and loud whimpers got the attention of two young men in the area. They ran over to Gloria, now laying in pain, and scooped her up.

We could hear her cries before she ever entered our office. The guys that saved Gloria thought to bring her to us, and we rushed her to the vet. She was covered in bruises and an x-ray showed that her shoulder had been broken when she was attacked.

Gloria is one of the sweetest and cutest dogs we have ever rescued. She is now recovering at a foster and this adorable puppy will soon be ready for adoption.


We received reports of a cat that looked sick. It was hard to tell from the pictures as the cat would run away when approached but she seemed very dirty and something did not look right.

It took three tries with a trapping cage before she would finally enter. She seemed wild, feral, scared, but we still could not tell what was wrong with her.

Now named Star, this scared cat had to be taken to the vet in the trapping cage. Pulling her from the cage we could see something was tied around her neck.

It was not possible to safely handle Star, or understand what was around her neck and how severe it was. A decision was made to sedate her, and the veterinarian began to pull back her hair and skin, to finally reveal that a shoelace had been wrapped around her neck multiple times and tied. It must have been choking her for months and the skin had started to grow over it. After the surgery was finished and the shoelace off of her neck, Star needed antibiotics, painkillers and daily cleaning to begin to heal her wound.

Star is an adult cat but weighed less than one and a half kilograms. The shoelace must have made it nearly impossible to eat and drink, and the pain and infection would have wore her down even more. Star turned out to be quite a friendly cat and has now started to play and interact with toys. She must have had some absolutely terrible months but she is improving day by day and will make a great addition to the right home.


You can help!

Animals like Gloria and Star should not have to suffer, but we can only help them and hundreds more when we have your support.

Make sure even more animals get the help they need this month and every month by becoming a sponsor.
Sponsors make sure that we are always there taking action for animals. Giving on a monthly basis means we can dedicate more time and resources directly to protecting animals.

What can your sponsorship do?
$15 covers the annual vaccine for one rescued cat or dog
$25 for a neuter operation
$50 for a spay operation

Sign up now - it is quick and secure, and you will know that your generous support is there when it is most needed!