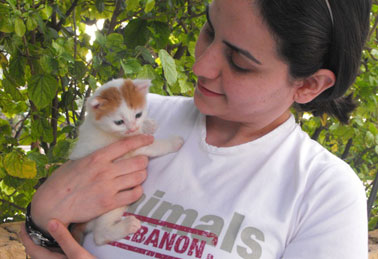 On Saturday the 16th of April, Animals Lebanon was present at the International College to participate in their "International Day" event. Around 2,000 people attended the event and visited our fun stand.
AL members and volunteers spoke to the visitors about our adoption and volunteering program. The crowd was specifically excited about Animals Lebanon adoption day on April 30th and they were thrilled to visit our newly opened centre. Fliers were distributed that focused on adoption and fostering programs.
One of our biggest attractions were: Sushi, Mafia and Diego. The three little orphaned kittens that were rescued and were under our care. They enjoyed the attention they got from the children, their short naps and some bottle feeding during the event. All three also got several potential adopters who will be going through our adoption process this week.
School and university students are vital to Animals Lebanon?s work. They are the ones who are eager to help out with rescues, fostering and spreading awareness.
At the end of the day, we were very content with all the new volunteers we got, the potential adopters and foster parents we met and the fun we had sharing this wonderful day with the wonderful students and parents of IC.