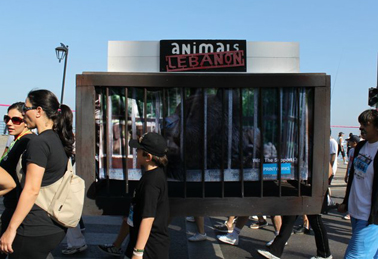 Sunday morning over 30,000 people turned out for the Beirut marathon.  Animals Lebanon was a partner charity in 2009, and was again chosen in 2010 as one of the nine partner charities.
More than 600 people ran to show their support for Animals Lebanon - the 1 km mom and baby run to the 42 km marathon and everything in between.  Runners were encouraged to gather pledges for their race, to help support our cause.
Animals Lebanon volunteers were up early as they managed the first water station of the race, giving refreshments to the runners and cheering them on.
The 10 km fun is where NGOs and companies show their cause, and a huge cage was carried by the team from Animals Lebanon to illustrate how wrong it is to abuse
animals and how our drafts laws can prevent more abuse.
Thank you to NDU, LAU, AUB, International College, Lebanon Evangelical School, Beirut Baptist School,Hariri school, Greenpeace, Michael Jackson Fan Club and Holcim for running with Animals Lebanon and making this race great!