A group by the name of the Lebanese Bully Kennel Club (LBKC) is raffling off three dogs, and the more alcohol a person buys the better chances of winning a dog.

There is 24 hours to stop this!

LBKC tried to organize a similar event on 12 December with Colonel Beer, but thankfully Colonel Beer listened to the public comments and cancelled their participation.

LBKC is trying to reschedule the event tomorrow, 17 December, at 67 Bar in Hamra.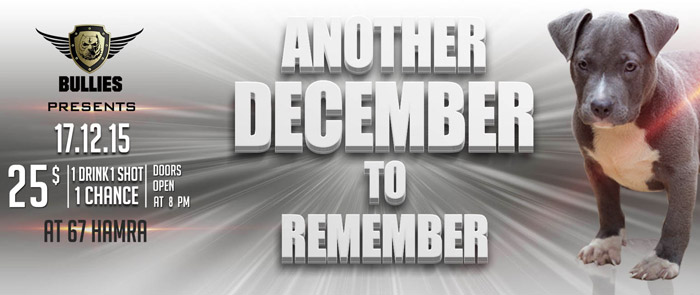 Animals Lebanon called 67 Bar and spoke to the person who said she was responsible. Unfortunately, the bar seems to be justifying this event.

The person responsible said that she was actually going to buy the dog to prevent the dog from being raffled off, thought they are raffling off three dogs. Then that raffling a dog is no different than raffling gold, though we explained that gold is not a living being and does not require a 15 to 20 year commitment. When we explain that this was actually against the animal protection and welfare law, approved unanimously by the Ministers and now at Parliament for final enactment, they said they actually weren't raffling the dogs.
67 Bar seemed unaware of what was on the event page and said they would contact LBKC for clarification.

Call 67 Bar now on 01 346 810 and let them know what you think!

Check out the event page here - https://www.facebook.com/events/1539552099669082/ and let them know what you think.

Animals should not be given as prizes, and certainly not on the basis of who buys the most alcohol. If 67 Bar wants to support this group or dogs, there are far better options than this.