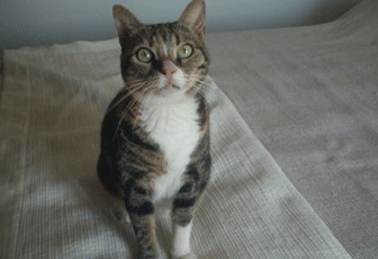 During the war in 2006, hundreds of people fled the country in a panic and had no way of taking their beloved pets with them.
Milly was one such cat left behind.
Before the war, she was rescued from the streets by Silvia, a Brazilian woman working in Beirut.  Silvia opened her home to give Milly a very happy life full of comfort and security. When the war broke out Silvia had to evacuate but was not allowed to take Milly with her.
She did the right thing by finding Milly a new home in Lebanon, but was heart broken to have to leave Milly behind after rescuing and caring for for Milly for so many years.
Two months ago, Animals Lebanon received a phone call from the family caring for Milly. Unfortunately for Milly, after three years of living with this family, she would once again be without a home.  The family was no longer willing to care for Milly and she came into the care of Animals Lebanon.
A temporary foster family was found for Milly as it would have been hard for her to adapt to the shelter after years in the same home.  Finding new homes for adult cats is not easy, and Milly was a special cat.  We could not risk getting her adopted again only to see her new family give her up after some months or years.
As a last resort, Animals Lebanon searched for a way to contact Silvia in the far off chance that she might still want Milly.  We could not find a phone number or email and we were ready to give up hope of locating her.
Animals Lebanon receives dozens of emails every day, and as we woke up and started to work our way through them, one gave us the biggest surprise of the year.  It was Silvia, and as we started to read through we realized this was no ordinary email.
She was asking about Milly! Silvia explained that the night before she kept thinking about Milly ? that cat she was forced to leave behind now would not leave her mind. Writing that it was the most heartbreaking moment when she had to leave her little cat behind, Silvia never gave up hope of getting her back.
It was an amazing and chilling moment when we read the e-mail and immediately responded that yes, Milly was indeed calling for her help.
Sylvia was completely elated and wrote back that she could not wait to be reunited with her beloved Milly.  As Milly was starting a new life, Sylvia also gave her a new name.  Her white paws earned her the name of Meihna, which means ?socks? in Portuguese.
This week, after a lot of paperwork, Meihna was flown to Brazil and reunited with Sylvia. Sylvia rescued Meihna once from the streets, and now rescued her again when she was abandoned.  We might only hear ?meow? when cats want to communicate, but this is one case where it seems Meihna could do far more to call out when she needed help the most.