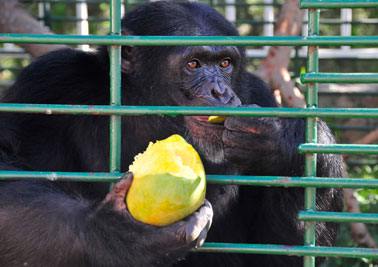 Almost nine years after chimpanzee Charlie was smuggled into Lebanon he has finally made it to a sanctuary.
Charlie, the last chimpanzee in Lebanon, was flown Wednesday to a sanctuary in Brazil after an eight year campaign to free him. The nine year old male chimpanzee was smuggled into Lebanon in 2005 when only months old. Charlie was then kept at a pet shop before being sold to a local zoo. In 2006 an attempt to confiscate Charlie failed and the he remained alone at the zoo in a barren enclosure.
Animals Lebanon filed a lawsuit in 2013 cooperated with the government to confiscate Charlie in April and move him into our care until the final outcome of the court case. Minister of Agriculture Akram Chehayeb then issued a statement confirming Charlie was smuggled into Lebanon and strongly recommended sending him to the sanctuary for his physical and mental welfare.
HIS LIFE WILL BE MUCH BETTER AT THE CHIMPANZEE SANCTUARY IN BRAZIL.
Only hours before the scheduled flight to Brazil, Judge of Urgent Matters Antoine Tohme issued the decision that finally freed Charlie, ruling that based on all of the statements from experts and the Minister of Agriculture Charlie could be immediately sent to the sanctuary.
Charlie has had a miserable life, being pulled from his mothers dying body in some forest, smuggled out of Africa, on display in a pet shop, locked in a zoo and never seeing another chimpanzee. We knew of Charlie when he was just months old but no matter what we tried we were not able to help him until now.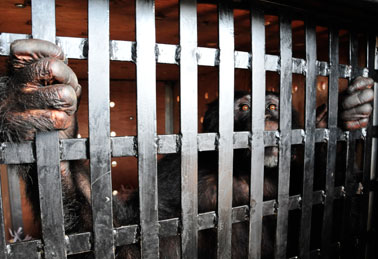 PHOTO © ANIMALS LEBANON
Certainly these have been the best three months of Charlie's life since he was captured from the wild. Every day Charlie would be laughing, playing, beginning to show natural behaviors, and sometimes just relaxing in his hammock. But his life will be much better at the sanctuary and joining a group of chimpanzees that will become his new family.
Landing in Sao Paulo, Charlie arrived safely to the Instituto Anami sanctuary in Brazil, and after a quarantine period he will be integrated with other rescued chimpanzees. In the middle of the night we received pictures of him happily enjoying a mango after the flight.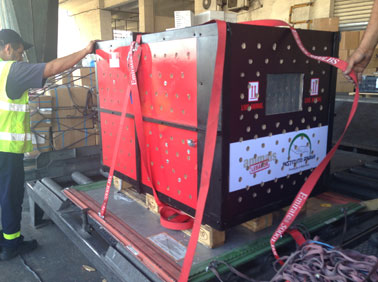 PHOTO © ANIMALS LEBANON
Over the last few years Animals Lebanon was able to rescue two other chimpanzees, and help a third chimpanzee reach a sanctuary.
We have also successfully campaigned to have Lebanon join the Convention on International Trade in Endangered Species to help prevent any more chimpanzees (and more than 5,000 species of animals) from being smuggled.
Charlie was the last chimpanzee to be smuggled into Lebanon, and he was the last chimpanzee to be rescued.
Thank you to everyone who helped make this possible!
Judge Antoine Tohme for understanding the importance of this case and ultimately making the decision to free Charlie.
Judge Dina Dabboul for the original ruling that again confirmed Charlie was smuggled into Lebanon and would be better at a sanctuary.
The Minister of Agriculture H.E. Akram Chehayab for taking such a strong stance and recommending Charlie be sent to the sanctuary for his own welfare.
Lawyers Mazen Rasamny and Salwa Abdallah took up this case pro bono and ensured the law does not forget Charlie.
The Instituto Anami for giving Charlie a new home.
Monkey World, Dr. Alison Cronin and Rob made sure that Charlie received the best care possible while with us for these three months.
Dr. Rosa Garriga came to Lebanon to help confiscate Charlie from the zoo.
Doug Cress and UN-GRASP, PASA and all of the experts that supported the campaign to free Charlie.
Countless others that cared about Charlie and gave us strength over this long struggle.
You made this legal ruling and rescue a reality - and gave Charlie a new life!