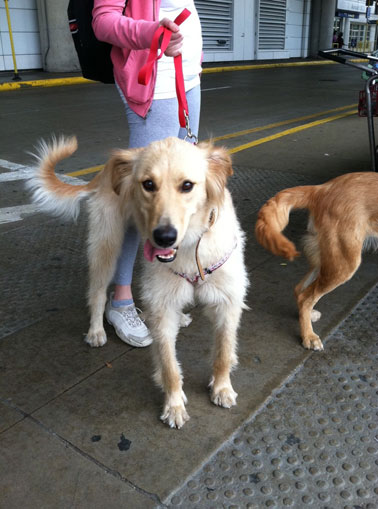 It gives us great joy when we can reach out to you with a story of happiness and new beginnings rather than the pain and suffering that the team at Animals Lebanon is used to sharing.
You remember Frida - the dog whose life was lived in the shadows of society, completely shunned out and abhorred because of the disturbing way she looked after years of an extreme skin condition. People used to throw rocks at her to keep her away. She was skin and bones when we finally rescued her - an operation which took 2 months of trying to lure the scared pup into our care.
You remember Isabella - bought from a pet store and then abandoned months later. Unable to find a family to care for her in Lebanon, she went from one compassionate foster home to the next - hoping each time that the kind family looking after her would be her permanent one.
You remember Jacob - completely blind. This dog was thrown out on the streets. You remember Gulliver - this cat had his face smashed in by a man who kicked him.
You remember them as they were.
Now, see them as they are.
Animals Lebanon succeeded in re-homing the entire troop to loving and caring individuals in the U.S.
It was a long trip over, but well worth it as each and every one of them are so happy in their new homes! Karin - a dedicated Animals Lebanon member, flew cross Atlantic to deliver each one of our beloved rescues to their new home and we are thrilled to share these pictures and footage with you.
Isabella was welcomed by international media at Chicago airport and animal lovers who came just to see her. Jacob is currently enjoying all the attention being the pet of the week, and our famous Frida got to sleep in a bed with her new guardian.
Last but not least, Gulliver impressed everyone with his special character and is showering people around him with his gentle kisses.
We hope that this story gives you inspiration, joy, and most importantly, hope that with Animals Lebanon second chances are possible!