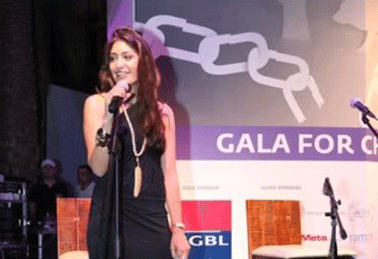 On Thursday, 17 June, the majestic Palais Mouawad Gardens was transformed for the first Animals Lebanon Gala for Change. The sold out event raised nearly $45,000 to support the vital work of Animals Lebanon.
Animals Lebanon was founded less than two years ago, but the determination of the five founders quickly built the movement into a night where 350 people from all sectors of society came together.
The Palace Gardens is known as one of the most beautiful locations in Beirut, but it was given that special 'animal' touch.  A vegetarian dinner was served, while the tables were decorated with animal shapes and pots of natural grass and local flowers.
After the opening speach of Lana El Khalil, a breathtaking short movie was displayed to illustrate the need of Animal Welfare Legislation in Lebanon.
A singer entertained the guests and a raffle was presented by the Animals Lebanon adviser Mrs. May El Khalil. At the end of the night everyone walked away with an Animals Lebanon eco-bag filled with gifts from our sponsors
As we work to draft national animal welfare legislation, the support shown throughout the night will help ensure the Animals Lebanon draft will be enacted.
A special thanks to our Gold sponsor SGBL, which led the way in making this night such a success.
Silver sponsors Pepsi, Beirut Marathon Association, Le Veto, Acid, DEP, Pet Care Veterinary Clinic, Mets energy, La Villa, and Ramco.
Bronze sponsors Virgin Megastore, Lion Bar, Arope Insurance and Transmed.
In kind sponsors MEA, Four Seasons, Le Gray, Vit-e, Dewars, La Mie Doree, Karaky Printing Press, Beirut Nightlife, Paladin, RMPM, and Chateau Kefraya.
A big thank you to Oderose, whose partnership helped make the Gala for Change great.
Thank you to all of our sponsors and guests for offering such generous support and showing that animal welfare is something the country cares about.  You showed us that this needs to become an annual event, and we look forward to seeing you all next year.