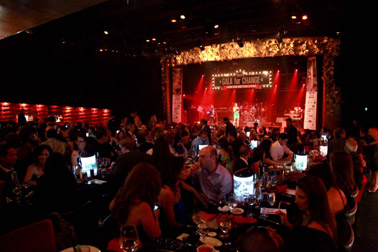 On 30 May Animals Lebanon held the third annual Gala for Change, this year at Music Hall. Tickets sold out ten days in advance and every seat was full as 370 people came out to support the organization and their fight to make animal abuse illegal.

This is our biggest fundraiser of the year and by every measure it was a success - largest number of guests, completely sold out and we still had people asking for tickets, most money ever raised, and it was great to look around the venue and see everyone having so much fun.

The night started with a video featuring some of our biggest rescues ? Omega the smoking chimpanzee, Eva and her puppies, Leo the lion cub, and the hyena Sara. People were taken aback as the tiny cage Sarah had been kept in was displayed. President of Animals Lebanon, Lana El-Khalil, welcomed everyone to the event.

?Your donations to Animals Lebanon are not supporting one animal, or one rescue, or one project ? you are supporting a complete shift in culture, and directly contributing to the movement for laws which will return the country to being a leader in animal welfare,? said Lana in her opening speech. ?Change is a long process ? but with your help ? I hope to be standing in front of you at next year?s gala proudly announcing that the laws for animal welfare are finally in Parliament and awaiting only a vote.?

Nadine Nassif from Radio One, the MC for the event, said ?lets celebrate what we have achieved and what we know is possible when we have so many good people coming together for this cause.?

Nisreen Hmaidan, Grace Zeitounian and San Cubano provided great entertainment to keep everyone happy while enjoying a delicious vegetarian dinner.

The gala is to celebrate what can be achieved when we all truly give from our hearts, and to recognize that we still have a very long way to go. All funds raised through the event will be used to continue our rescue work and ensure the draft animal protection and welfare law is enacted quickly.
To view more pictures of event, please click here
Thank you to our incredible sponsors, who year after year have shown faith in our cause and backed our work financially.

Platinum sponsor Fidus Wealth management, which has been the main sponsor of every gala and funded many of Animals Lebanon?s projects.

Silver sponsors Pepsi, La Villa, Royal Canin, Ramco, METS, International College, and La Libanaise des Jeux.

Bronze sponsors Pet care Veterinary Clinic, Animal House Hospital, Transmed and Arope Insurance.

In kind sponsors Fluid Design, Future Graphics, O de Rose, Maroon Asmar, Express International, Enotica, Bocti, Skaff and Time Out.

Thank you to the wonderful group of companies that donated items for the raffle ? Middle East Airlines, Fiona's, the Four Seasons The Grill, Balthazar, Vintage, Cookie Dough, Abdul Wahab, PureGray Health Club and Spa, Le Grey's Indigo on the Roof, Zabad, Marinella, Boutique de Monde, Rana Tueni, Tony Mendelek, Smartiz and Co, Zeina Selwan, Laya, La Posta and Music Hall.

Thank you to the group of artists and designers who came together to create special one off pieces for this event, each integrating animals in their own unique way - Rami Boutros, Cyril Najjar, Marie Jo Donato, Maria Arida, Xena Kay, Ziad Saba and Sibylle Abillama.

Finally thank you to Music Hall for making this event possible.

Animal abuse is wrong, and the Gala for Change overwhelmingly showed that the support is there to make it illegal!
Gala for Change in the media
Time Out Magazine photo album