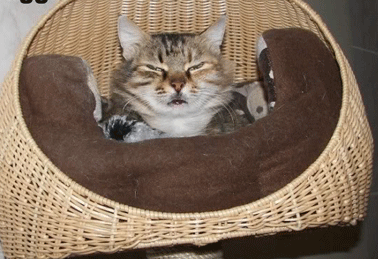 It has been almost four weeks since Animals Lebanon was contacted by the Municipality of Beirut regarding the case of an old lady hoarding a large amount of cats. After numerous complaints from neighbors that the cats were creating a stench throughout the building and had become a health risk to the people living there, the Municipality reached out to Animals Lebanon as a last resort.
We took up the Municipalities request, getting involved to save more than cats and help the lady who is living in miserable circumstances.
Originally published in the Lebanese newspaper L'Orient-le Jour, the story of the old lady and her cats created a stir in Beirut, and reinforced the fact that animal welfare has a definite impact on human welfare.
Animals Lebanon has been going to the apartment several times per week since we received that call. Dealing with such a delicate situation is a series of small steps. After gaining the trust of the woman, we remove a few cats each visit, and provide food and care to the cats that will be removed on a later visit.
The cats we have removed so far have each needed veterinary treatment. The months, and in some cases years, or poor treatment have left them all in poor health. Every cat has needed to be dewormed and deflead, and many had eye problems form living in the dark and dirty conditions. Sadly, a few cats were simply too sick, too neglected, to make it. But for those that we were able to save, they have had an unimaginable second chance.
Thanks to an outpouring of support in Europe and a wonderful group of people in Holland, 12 cats were recently flown to homes in Europe. All of the kittens were adopted by people throughout Lebanon and are already settling into their new homes.
As we progress with removing all the cats and getting them safely into new homes, we also call on the social welfare organizations to help the lady. Just as we removed and cared for the cats, the woman also needs care and attention. Stay tuned as Animals Lebanon continues to update you on this story and removes the final cats, and a special thank you to everyone who has helped so far.
Read the first part of the Hoarder's story here.