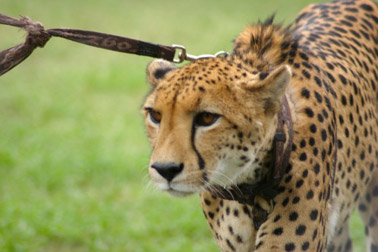 Green Prophet
by Tafline Laylin
http://www.greenprophet.com/2012/01/gulf-ban-wild-animals/
Remember the Porsche driver in Dubai who thought it was cool to walk his pet cheetah on a leash in the middle of a busy urban center? It turns out that if he is a resident of neighboring Ajman, he could have received a massive fine and the animal would have been confiscated.
In a move that makes our green, animal-loving hearts sing, one of the smallest of seven Emirates and the home of our very own Green Sheikh, is the first Gulf Country to pass legislation which makes it clear that keeping lions, cheetahs, and crocodiles at home is not ok.
Law 54
In 2011 the Ajman Municipality passed Law 54, which states that the possession of all wild animals and reptiles in homes, apartments, and hostels is illegal.
This move followed a spate of incidents of non-domesticated animals escaping residents and endangering other people. The Green Sheikh told us in an email that this new law ?protects the community from any danger and damages? that occur when crocodiles and other wild animals break free from their ?owners.?
$2,720
Ajman?s Executive Director of Public Health and Envrionment Khalid AlHousani told Green Prophet that the law was passed following surveys carried out by the department and complaints received from citizens and residents of the Emirate.
He added that anyone caught with a wild animal or reptile in their home (including lizards) will receive ?a penalty of 10,000 Dirham (or $2,720) and the animal will be transferred to a z00 or reserve park.?
AlHousani says ?Ajman is the first to pass such a Law.
We hope that others will do the same.?