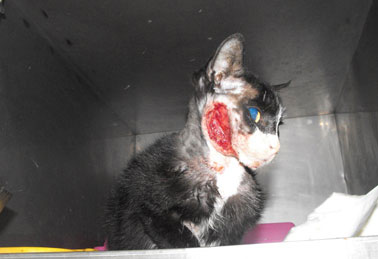 It was a very dark and stormy night when Animals Lebanon received a call about an extremely sick kitten hiding in a small crevice of rocks in Charles Helo Port.
Rain was falling down hard, and although the kitten had tried to avoid it, it was still soaked, thin, and shivering.
An AL founder managed to capture him and put him inside a cage in order to take him back, and although the little kitten was sweet and cooperative, he was still very frightened.
During the rescue, our team encountered a couple of kind security guys who were concerned about Gulliver. One of them stated that the poor kitten was abandoned in this area three weeks ago. He always seeked attention from people passing by, and one day, one of the people kicked him in the face.
On the way to the vet, it was discovered that he had a huge abscess under his neck and, worse, it was infected, not to mention wounds on his little arms. The abscess had to be removed and so our little kitten was left with an open wound on his neck. The kitten was named Gulliver after the hero in Gulliver?s Travels, for, like him, he has had to endure many perils and undergo many dangerous adventures.
Gulliver is now being fostered and is in much better shape, he loves to play and be around people, and his wound is being cleaned and taken care of daily.
At only six months old, it is incredible to witness how such a small, helpless kitten was able to endure such conditions and become our beautiful and healthy Gulliver.