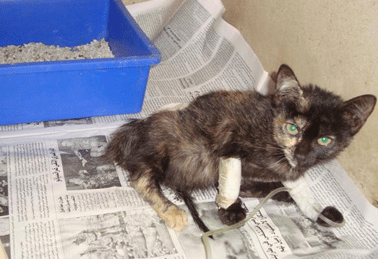 Born on the streets, her mother never seen, Hayat just appeared one day next to the building of a woman who was compassionate enough to provide her with food and water.
That?s the only good thing Hayat knew from the streets, food offered at the same time everyday, everything else was lonely and dangerous.
On one Sunday morning, when the woman called Hayat several times to come for her food, she was surprised and worried of her absence. This happened for three days in a row until Hayat reappeared. The woman was happy to see her coming until she noticed that Hayat just was not the active cat she was used to.  Instead of running to her and purring loudly for the food, Hayat was struggling to crawl to her.  Worried that she might have been hit by a car on the busy street, she called Animals Lebanon.
The vet could not understand what seemed to have caused her back legs to be paralyzed.   An X ray was ordered and unfortunately it showed what many animals face when not in a loving home.  A bullet was lodged between two vertebras in Hayat?s spinal cord. Checking again the vet found a small scar where the bullet must have entered weeks or months before, and for some reason was now causing all these problems.
The complicated, three hour operation was a success and the bullet removed. ?I removed the bullet, a small piece of broken bone and some hair that was lodged under the bullet.  If these remained, the kitten would have suffered severe infection and probably would not have not made it? the vet explained, and added ?the pain she felt was intolerable yet she struggled to love?.
Thankfully Hayat had someone looking after her who noticed something was wrong, and that the bullet was removed before it could do more damage.  Luckily Hayat had enough determination to live, enough to push herself to crawl to the only thing that kept her going, the compassion and kindness of this woman. And that?s where her name comes from; Hayat means ?Life? in Arabic.
Hayat regained her ability to walk a week later, and is now being given daily massage and exercise to help her recover fully.   She is now boarding with one of the AL volunteers who continues to care for her during this important period of recovery.  As with so many cats, it is unfair to return them to the area they call home once something like this occurs. Once Hayat is completely healed, she will join our other cats at our shelter while she waits for a quick adoption.