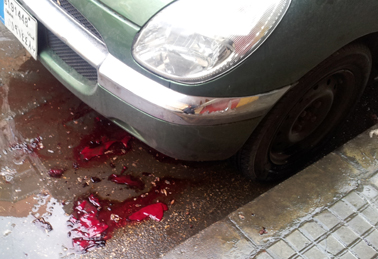 On Friday the 18th of November we received a distress call concerning some dogs that had been shot.
The person who contacted us sent us some gruesome pictures of the aftermath of the shooting, showing blood splattered everywhere. Seeing these pictures was horrific in itself.
We received a picture of one of the dogs who was still alive - all the others had been killed - and rushed to the scene to see if he could be treated and to try to determine what had happened.
We were shocked to find that someone had shot these dogs and their owner in full view of the local community over a personal dispute.
Hope was shot in the leg, the bullet had penetrated though one side and came out from the other. It left a hole in his leg with shattered bones inside.
He is now recovering at the vet and once healed he needs to be re-homed. He might have a limp but is otherwise a healthy survivor.
Unfortunately these types of stories are common in Lebanon: two months before, in the same area, another pack of dogs was shot, reportedly by the police, in order to control the stray dog population.
In our experience many domestic dogs, formerly pets, are simply dumped on the streets or lost by their owners. Shooting such animals is not the solution.
Animals Lebanon has drafted an animal welfare law which is currently with the Lebanese government and a section deals with the protection and control of stray cats and dogs. It provides for them to be kept in animal shelters to be re-homed or safely neutered to reduce the population.
We do not need more gunshot fire to deal with our problems. Instead we should work on a more civilised level and deal with the problem humanely and within the boundaries of the law.
Donate today to help Hope and other animals or click here to join us in our campaign to enact animal protection and welfare laws.