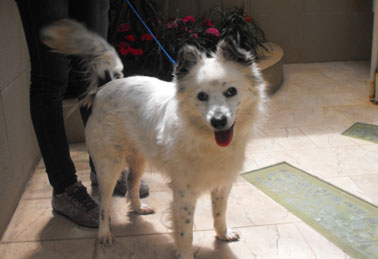 Jacob lives in a perpetual twilight, he was born semi blind. Can you imagine navigating the already challenging outside world with any vision? abandonned and blind, Jacob had an amazing will to live.
He was left on the steps of an old woman known to feed and keep stray cats. She struggled to care for him for several months, However, she couldn't keep up caring for him while she has lots of cats.
We picked up Jacob a few days ago and since then anyone who met him fell in love with him. Despite being blind, Jacob is very loving and trustful, he is always seeking attention and loves to sit on your lap
If you're willing to take on the responsibility of being the eyes for this special dog, He will reward you in return. Open your heart today, adopt or foster Jacob.