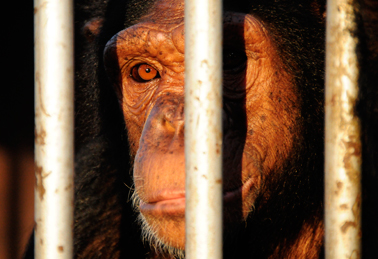 Kiki, a nine year old chimpanzee, is now settling into her life in a sanctuary after being rescued from Lebanon.
Like so many other chimpanzees, she was taken from the forests of Africa before ending up locked in a small cage as a private 'pet'.
She was kept alone for at least eight years in a metal cage measuring two meters wide, two meters long, and two meters tall. As she was kept on the side of the road in a gated community south of Beirut, families would drive by during the day to look at Kiki.
Founders of Animals Lebanon have visited Kiki nearly every weekend for the last three years, bringing her food and helping her overcome the monotonous days.
Chimpanzees are highly social animals that live in family groups, and the boredom and isolation were as bad as the barren conditions she was kept in. She was given blankets to keep her warm through the cold wet winter, and small branches from trees that she would use to build nests with.
In early January we were contacted for advice by MEA as they had been requested to fly Kiki to the UK. We were extremely happy - and surprised - to hear that Kiki would soon be going to Monkey World in the UK, one of the most respected primate rescue centers.
After years of caring for her, and worrying about her, the people who kept Kiki finally agreed to give her up. They had realized that as kiki became older she was also becoming aggressive, and they began speaking to Monkey World.
The day the team arrived from Monkey World the government collapsed as the majority of the Ministers resigned, and we were afraid the move might need to be delayed.
The team from Monkey World were able to get the final clearances and Kiki was flown out of Lebanon early morning on the way to the rescue center.
Animals Lebanon is proud to have played a part in helping to secure Kiki's release and caring for her over the years, and thank our partner MEA for continuing to fly rescued animals.
Kiki has now settled in and has started to make friends with the group of 18 chimpanzees sharing her large enclosure. After not having seen another chimpanzee since she was taken from Africa as a baby, she quickly made friends with her new family and started to explore her enclosure.
Two months earlier, Animals Lebanon rescued Omega, a 12 year old male chimpanzee. When young, Omega was taken to a restaurant to entertain customers. He soon became too large and was locked alone in a zoo for eight years, smoking cigarettes thrown to him by visitors. The zoo owner was cooperative and after arranging paperwork and health tests, Omega was sent to a sanctuary in Brazil and lives with a group of chimpanzees rescued from zoos and circuses.
At least two other chimpanzees are still kept in similar conditions in Lebanon, both in privately owned zoos. We will keep working to free these two chimpanzees, and hopefully they will soon get their chance to be in a sanctuary like Kiki and Omega.