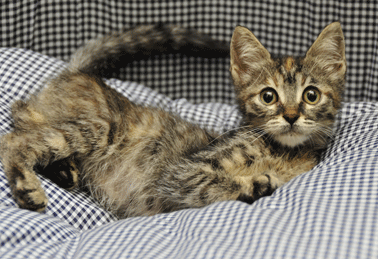 When new life is brought on to the earth, it is usually a cause of celebration and joy. But for the homeless animals on the streets of Lebanon, this means a large population of newly born kittens who face sickness, starvation, injuries, cruelty, and for many, death.
Animals Lebanon has been working on overdrive averaging at least one kitten rescue per day ? digging the helpless creatures out of garbage bins, underground parking lots, off the sides of highways, and from inside gutters. In one month, we have achieved over 30 kitten rescues.
In our care, the kittens received medical treatment and were lovingly looked after by Animals Lebanon?s dedicated volunteers. The kittens were then given a golden opportunity when Mix FM, Lebanon?s leading radio station, offered to air a campaign about the rescues.
Having our campaign on Mix FM?s airwaves gave Animals Lebanon the chance to spread awareness on the plight of these homeless kittens to hundreds and thousands of listeners and reach out to animal lovers throughout the country. In only two weeks, we were able to locally re-home a record number of 22 kittens and gain a wonderful group of new volunteers! Thanks to Mix FM, our rescued animals now have the chance of a new life in a loving home!
Working simultaneously on our older or 'special' cats and dogs, ten animals were safely re-homed this month in Holland thanks to the devotion and hard work of our international Animals Lebanon supporters, Agnes, Henny and Hano. These three people are absolutely devoted to the welfare of our rescued animals and have played a crucial role in giving these animals a second chance at life in a home.
Below you can see some of the adopted kittens and some that are still waiting for loving homes.