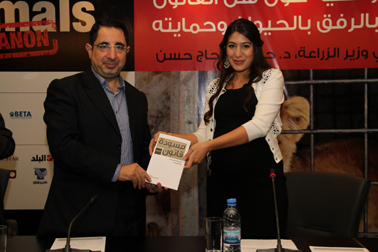 National animal protection and welfare legislation took a step closer to reality as the campaign was launched today at the Parliament Building.
Under the patronage of H.E. Dr. Hussein Hajj Hassan, Minister of Agriculture, Animals Lebanon formally presented its draft legislation to the Minister and all Parliamentarians at the launching conference.
The draft was reviewed by over 20 international organizations including the World Animal Health Organization, and the campaign is being carried out in cooperation with the Ministry of Agriculture.
"After receiving comments from experts around the world our draft is now complete, and this conference saw the law distributed to stakeholders in Lebanon and internationally," said Lana El-Khalil, President of Animals Lebanon. "After today no one can say 'we weren't aware' of this huge problem."
"Despite the challenges Lebanon faces, top of which is the well-being of citizens, there is nothing which forbids us from also working to make Lebanon a better country in relation to animal welfare,? said Hajj Hassan.
Unregulated zoos and pet shops exist throughout Lebanon, the smuggling of endangered species continues, quarantine and international trade regulations are often ignored.
The draft would move Lebanon into being more compliant with the obligations of the World Animal Health Organization and the Convention on International Trade in Endangered Species, as well as specifically addressing local issues such as stray animal control.
"Animal welfare legislation existed in Lebanon since its independence nearly 70 years ago, and at that time Lebanon was recognized as a leader in the Middle East for animal welfare," continued El-Khalil.
Animals Lebanon is now working to secure 25,000 signatures in support of this law and meeting individually with Parliamentarians, while cooperating with the Ministry of Agriculture to see the draft proceed as quickly as possible.
"Animals can feel, and that alone is enough reason to provide protection," El-Khalil said.
"At the same time, this is about meeting international obligations, protecting local wildlife, and recognizing the real economic, social and health benefits that animal welfare laws bring about."
"We adopt the presence of laws on animal welfare in Lebanon and we thank Animals Lebanon for their efforts,? concluded Hajj Hassan, ?Our culture, our morals, and our Islamic and Christian religious values, all call us to be good to animals, just as the economic, financial and health interest require us to enact legislation related to animals."