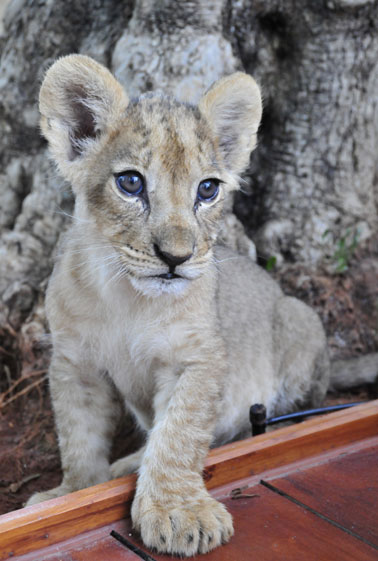 A lion cub being kept in Beirut was rescued last week and will soon be sent to a sanctuary in South Africa.
The five week old cub, kept on a balcony, was smuggled into Lebanon before ending up as a private pet.
"The keeping of lions as pets has drastically increased in the last two years, and we regularly receive reports about new cubs," said Lana El-Khalil, President of Animals Lebanon. "Within the first couple of months of life a lion becomes too large and strong to be kept in a house, only to end up locked in a backyard cage or sold to a private zoo."
This cub, unlike so many others Animals Lebanon receives pictures and emails about, is safe now and will soon have a new home in South Africa with other rescued lions who have came from similar conditions.
"Animals Lebanon has uncovered zoos in Syria offering new born lion cubs for $350 each, and workers offered to advise on how best to bring a lion to Lebanon," continued El-Khalil. "One zoo owner in Lebanon reported bringing in eight lions from Syria, and admitted that they all died within weeks as they were too young."
Lebanon has not yet joined the Convention on International Trade in Endangered Species (CITES) which would regulate the international trade of endangered animals like lions. Lion populations in Africa have dropped significantly in recent decades due to loss of habitat, hunting, poisoning and other factors.
"The Lebanese government has expressed its intention to have Lebanon join CITES, and we understand that this process is moving forward," said El-Khalil. "There are currently 175 member countries, and we are hopeful that next year Lebanon will be number 176.
We are able to help this lion because the owners are cooperative, but we must prevent these animals from ever entering Lebanon and ending up in these conditions and joining CITES can significantly help."
The Drakenstein Lion Park in South Africa, which cares for dozens of rescued lions, agreed to provide lifetime care for this cub. Animals Lebanon is communicating with the sanctuary to ensure the cub receives the proper nutrition he would normally get from his mother.
There is little understanding about how to care for these kinds of animals, and like the lions imported from the zoo this one too can risk death or develop deformities if not given the correct nutrition.
Animals Lebanon and the sanctuary are now working to ensure the proper permits and documents are in order before the cub can be flown.
Donate now to help give this lion a permanent home with other rescued lions and support Animals Lebanon's work to prevent the smuggling of endangered species.