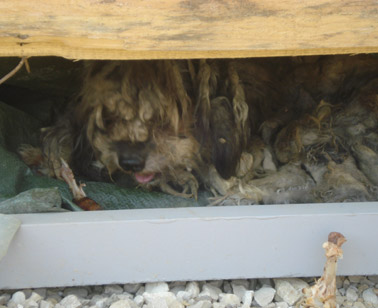 Dobik is another abandoned dog left to fend for himself on the streets of Beirut.

We received an email informing us of his hiding place at a construction site and that he was scared of people. Our team rushed over and found him hiding under some wooden shelves.
They could barely recognize that it was a dog due to the condition he was in: dirty, matted hair, dehydrated and shivering.

?His eyes were what led us to him," said Ramona, one of the team members who participated in the rescue.

It didn't take us long to locate his hiding spot, but it took a while to get him to trust our team.
It wasn't easy to get him as he was trying to run away from us, but with some persistence and comforting words, we were finally able to pull him out of the hole he dug to hide in.

Dobik is a mixed-bichon frise male, just shy of a year old.
He is now being groomed and receiving lots of medical care and will soon be in need of a caring foster/forever home.
If you or someone you know are interested in being the one to change his life, please write to us at: adopt@animalslebanon.org or call 01-751678.