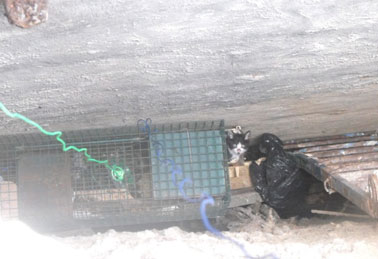 Animals Lebanon received a rescue call late one Sunday night about a kitten who had fallen into a hole at a construction site.

Safa, one of the Animals Lebanon founders went to inspect the case thinking that we would only have to scoop the kitten out of the hole and call it a night.
When she arrived on site, she followed the faint sound of the kitten meowing for help, until she stumbled upon the hole...it was 16-feet deep!

There and behold at the bottom of the hole she could see the tiny bundle that was the kitten, crouched in fear, covered in dirt, and crying for help.
Safa immediately assembled a rescue team and even used the help of the construction workers on site to start hauling the kitten out - it was truly a group effort! After 3 days and nights, the use of a humane trapping cage, climbing carefully up and down the 16-foot hole, the kitten was finally in Safa's arms!

Luna was rushed immediately for medical follow up and is now being lovingly rehabilitated by the Animals Lebanon Team.
She has been treated and vaccinated and this little survivor is now ready to be adopted into a loving home.