In the heart of Beirut, a little kitten was losing her life.
Born on a rooftop, she fell through a drainpipe, finding herself trapped 18 meters underground. Her desperate cries could be heard throughout the building. It was a race against time.
Your are our lifeline and their only hope - Donate today!
Day 1 - Armed with a pipe inspection camera, we began our search from the rooftop to the basement. It didn't work. Despite the frustration of not finding her, her cries let us know she was still alive, and fueled us with hope.
Day 2 - Joining forces with Beirut's Civil Defense and a Municipality architect, we expanded our team and equipment. The aging building had no blueprints or designs, leaving us in the dark about its intricate piping system. We explored every sewage hole, pleading with shop owners to help us uncover the hidden connections. As the kitten's meows grew faint, we began to get desperate.
Day 3 - Celtic Pub became our last option. With the owner's permission we broke through. A breakthrough emerged—a T-section leading to the pipes. Cameras and thermal imaging gave us new options. There, beneath the weight of the sidewalk, her warm little body was detected! Hope surged as we all went full force into action.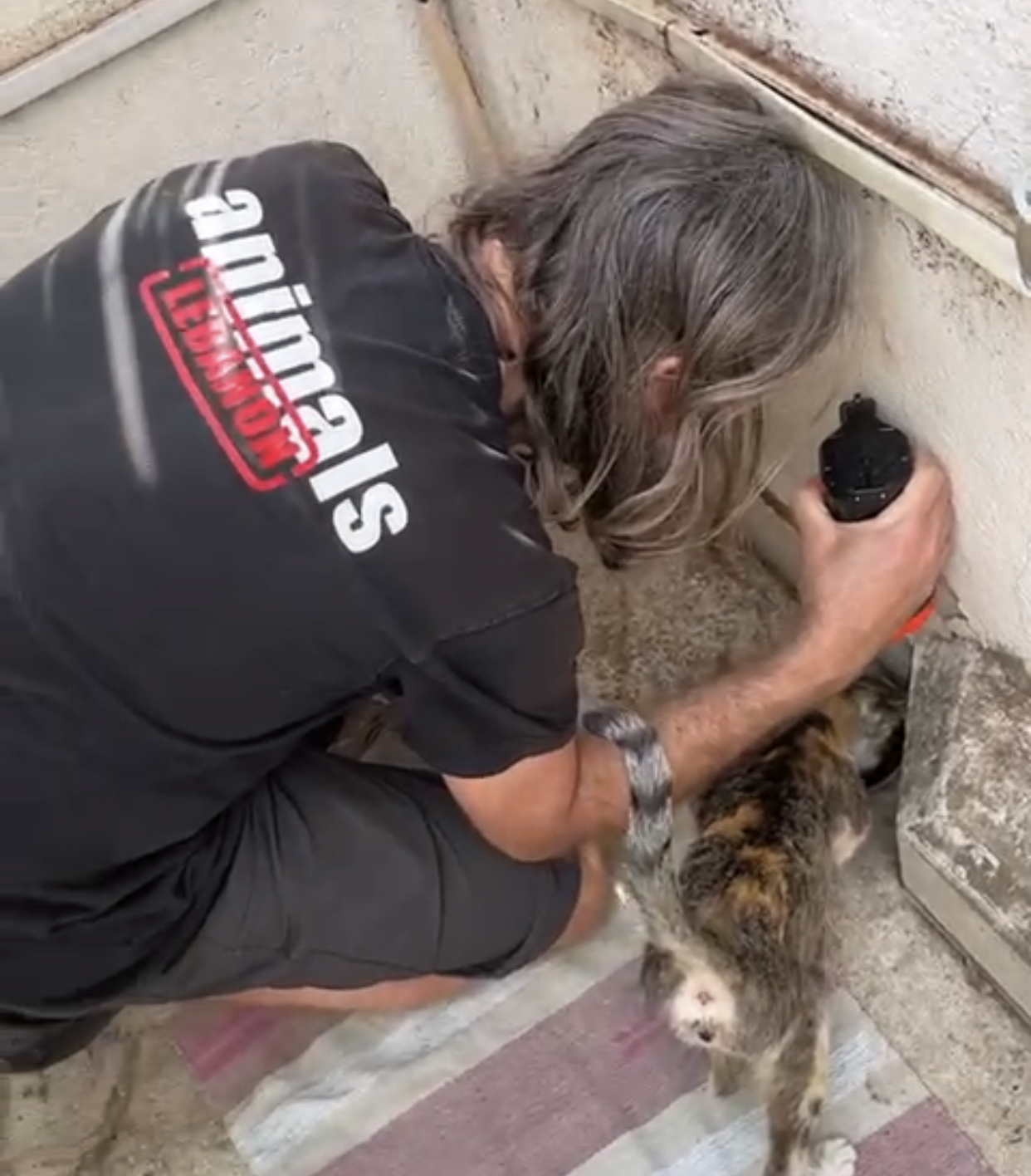 Mama cat helping our team locate her baby.
Municipality architect called in a team of dedicated workers, equipped with the necessary tools. Together, we dug fervently, cautiously navigating the pavement, ensuring the kitten's safety. Divided into two teams, one monitoring her vital signs, the other tirelessly digging, we inched closer to her freedom. Tools, bare hands—nothing was spared in our quest to reach her swiftly.
After 72 hours, she was pulled free! We saved that precious little life.
Lebanon's spirit shone brightly as dozens of people and firefighters rallied around this tiny black kitten. Passersby were compelled to join in, lending a helping hand. The exhilarating feeling of unity and compassion filled the air.