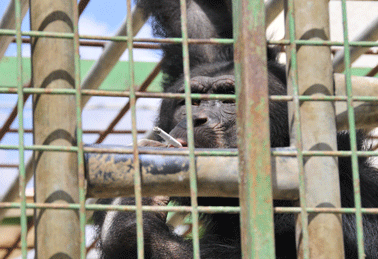 Omega, a 12 year old chimpanzee, has lived his entire life in a substandard zoo in southern Lebanon. When he was young he was trained to do tasks in a restaurant, but soon became too strong and unwilling and has been locked up ever since.
Now, after a six month campaign to close down the zoo and free the chimpanzee and the rest of the animals, we urgently need your help. The zoo owner has agreed to close down the zoo and turn over all animals to Animals Lebanon, and you can make sure Omega is moved safely to a chimpanzee sanctuary for the rest of his life.
As we continue to identify appropriate sanctuaries for the hyena, porcupine and baboons at the zoo, a sanctuary in Brazil has offered Omega a permanent home. The Vargem Grande Paulista Sanctuary in Sao Paulo, Brazil, was started in 1998 and is home to two groups of chimpanzees rescued from circuses. The sanctuary can offer Omega as close to a natural setting as possible and the ability to interact with other chimpanzees - a major change from his life in the cage for the last ten years.
In February 2009 Animals Lebanon successfully closed down a zoo and with your help rehomed every animal. Rescued bears Kira and Big Mama have been living happily in a sanctuary in Turkey ever since, and three monkeys were sent to a sanctuary in Wales with the help of Middle East Airlines.
Chimpanzees and other highly endangered wildlife are regularly smuggled to the Middle East to be displayed in private zoos, hotels, and the pet trade. Animals Lebanon is working to have Lebanon join the Convention on International Trade in Endangered Species, and to enact laws which regulate zoos and the keeping of endangered animals.
We need your help now to send Omega to Brazil, and make this zoo closure as successful as the first. For the last ten years Omega has been locked in a small cage - he has not seen another chimpanzee, he has not climbed a tree, and he smokes cigarettes thrown to him by zoo visitors.
In only a few weeks this misery can be a thing of the past and Omega can learn once more what it is to be a chimpanzee, but we urgently need your support to make it happen. Permits, flights, specialized chimpanzee transport crates and veterinary care are all being arranged to ensure Omega is moved as quickly and safely as possible.
Please, donate now to free Omega from the zoo and give him the opportunity to enjoy the rest of his life in a sanctuary.