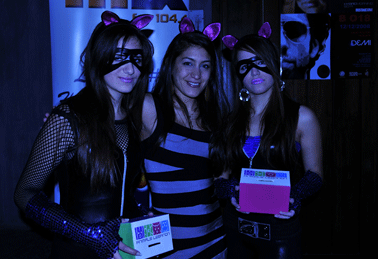 Thanks to Mix FM and BO18, everyone came out to party for the animals.

Sexy cat women welcomed a great crowd of friends who danced through the night in support of a great cause and the vital work done by Animals Lebanon.

So many new people heard about the launching party for Animals Lebanon playing on MixFM, and BO18 generously donated a portion of the proceeds of the night.

Invitation
This Friday, December 12th, dress to impress and dance the night away at B O18 Classic .

Have you ever passed a stray, sick, or miserable animal on the streets and felt helpless? Have you ever witnessed an act of cruelty towards an animal and wished you could do something about it?  Do you know the joy animals can bring and want to spread this joy through the community? We certainly have, which is why we started Animals Lebanon ? between our animal shelter, daring rescues, and ambitious projects, we?re the feisty but charming animal activists that are here to make a difference!

The night will feature sexy cat-women, touching visuals, and a heart-pumping line up of Mix FM DJ?s!

Reserve now on 03/800010 and party for a great cause ? everyone is welcome!

Party Animal VIP tables limited ? so secure yours now!

Animals Lebanon launching party -Friday, December 12th ? dance to your own beat!