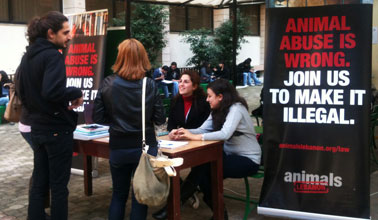 With the national animal protection and welfare legislation campaign officially launched, Animals Lebanon volunteers and supporters are out on the streets of Lebanon to spread awareness, garner support, and secure petition signatures of those in support of the law.
In addition to taking to the streets, Animals Lebanon volunteers are holding awareness events at schools and universities across Lebanon. Most recently, the organization coordinated an event at Haigazian University where they worked with the school?s Environmental Club. Organized on December 19-20, 2011, Animals Lebanon supporters and the club members wholeheartedly campaigned on the campus to gain petition signatures, and ultimately, enact the national animal legislation.
Commenting on the event?s success, the president of the Environmental Club said, ?Around half of the university?s students signed the petition and many shared the petition online.? She continued, ?The club?s members are eager to help in spreading the message because they recognize that animal abuse is wrong and, as such, should be made illegal.?
Animals Lebanon volunteers and Haigazian University students put an impressive amount of effort into trying to reach out to many people and the members are still willing to do more in future collaborations.
Thus far, the organization has secured over 5,000 signatures and will continue to work toward its goal of 25,000 signatures in support of this law and meeting individually with parliamentarians, while cooperating with the Ministry of Agriculture to see the legislation is enacted in the immediate future. Given the success of the event held at Haigazian University, Animals Lebanon plans to hold several more awareness events at schools elsewhere in the country.