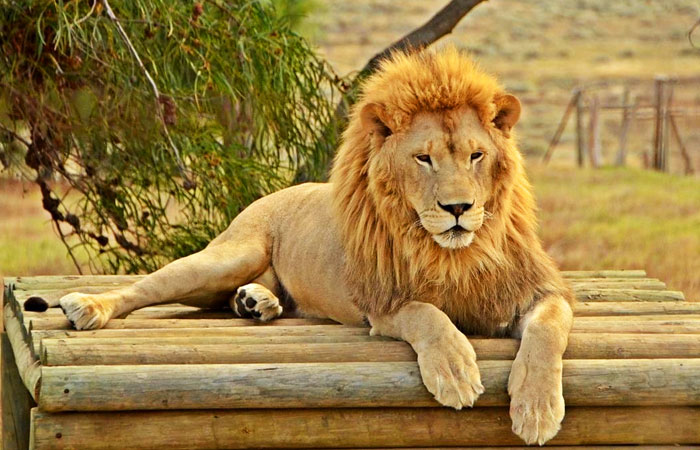 His entire life, like so many other lions and tigers in Lebanon, was suffering...

When we received pictures of a skinny, miserable lion, trapped in a metal shipping container, Leonidas became a focus for us. We had to get him out.

The conditions he was living in were bad enough, but the story of how Leonidas ended up there is just as sad!
According to the owner, Leonidas was purchased from a privately owned zoo for $10,000. This zoo describes itself as a 'magical environment' and a 'refuge' for animals but that is far from reality. Leonidas is not even the first lion sold from this zoo to any member of the public with enough money.
He would have been taken from his mother when young so he could be more easily handled and more valuable.By removing Leonidas,the mother lion could get pregnant sooner, giving birth to even more lions that would be sold on.
For the next three years, Leonidas was kept as an attraction at an amusement park in the mountains outside of Beirut. He lived in a cramped metal shipping container, his entire world consistent of a 15 square meters of cement floor. This was inside another building so he had no natural sunlight and was often in the dark with not even a view to pass the days.
The owner agreed that Leonidas could be better cared for someplace else - this is the video of his rescue.
After nearly a years work building trust with the owner, securing a sanctuary, arranging paperwork and permits, finding a flight, and even a delay because of a heatwave, Leonidas was removed from the shipping container and flown to the Drakenstein Lion Park in South Africa.
Leonidas was flown at night to avoid the daytime heat as he transited in Dubai before arriving to Cape Town.
As it had been so long since he has walked on grass, heard the sounds of nature and other lions, and even such a wide open space he was quite understandably nervous at first.
It was all worth it when he laid down in the grass for the first time, stretching out and enjoying the sun on his belly. Leonidas has settled in well at the sanctuary which also cares for two other lions we rescued as cubs.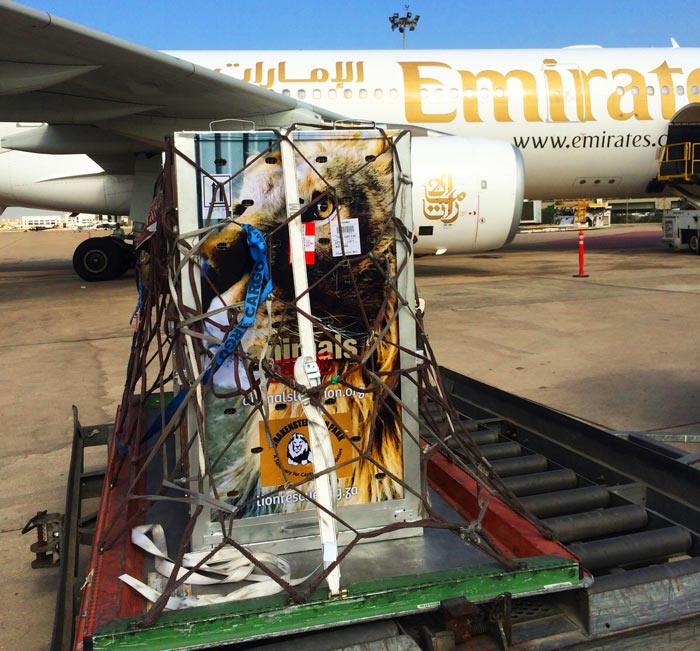 Stop the sale and keeping of lions
Animals Lebanon has now rescued three lions and two tigers, all in sanctuaries in France and South Africa. Each animal not only recovering from the abuse and neglect they were subjected to here, but actually thriving and becoming visibly healthier and happier.
Leonidas was not the first lion sold for such enormous amounts, and he likely will not be the last.
What you can do
Do not visit zoos until zoos are regulated, the welfare of the animals ensured, and the zoos are open and transparent about their work and efforts to conserve species and their habitats.
If your school or club wants to arrange a visit to a zoo, let them know that you would rather see animals in the wild instead of animals suffering in cages.
If you do visit a zoo and don't like what you see - speak up! Tell the zoo workers and zoo owner, share your experience on social media, tell your friends and family. The animals are counting on you and if people stop visiting zoos will improve their conditions or close down.
See an animal in a zoo that seems to need help? Report it to us and the Ministry of Agriculture.
Thank you to the Drakenstein Lion Park, Dr. Jean-Christophe Gerard, Emirates, and all of our suporters for making this rescue possible.

Donate now and help rescue other lions and tigers in need just like Leonidas!

Read the first story of Leonidas before he was rescued