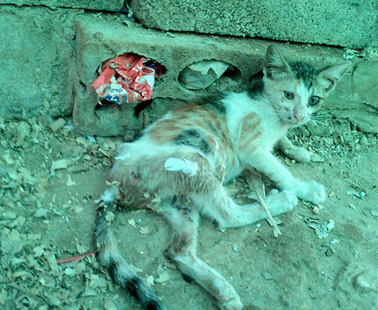 Angel, the kitten shot in the back is happily standing and walking again.
A few weeks back, we got a call followed by an email about a kitten laying on the side of the road for days.
The lady who found her had taken a picture and sent it in the email.
After picking up sweet Angel, we discovered that she was shot with a pellet gun which resulted in paralysis of her lower functions.
A surgery, intensive care and lots of foster love helped Angel get on her feet. She will still remain under treatment for a while and as soon as fully recovered, she will be getting ready to go to a beautiful loving home in Germany!
Angel?s rescue needed lots of care and follow up.
Thanks to joint efforts between Animals Lebanon team, the foster home and an adopter from Germany, we were able to help Angel get the life she deserves.
Together we can make a difference for the animals in Lebanon!
Join us today, share our stories, volunteer with us, foster and donate! If interested in helping, please email us to contact@animalslebanon.org or call us on 01-751678.