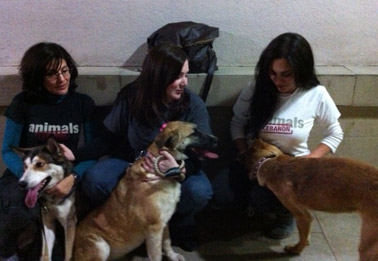 Remember the eight dogs who flew to the US with Hearts of Hope dog rescue?
Well, they all got adopted into beautiful homes and we have been getting constant updates of their stories.
Yet the even happier news is that Hearts of Hope dog rescue opened their big heart for another six dogs to have their life changed.
Janelle McFarlane, the group's director, and Dr. Bruce, a local veterinarian, came to Lebanon to escort the six lucky dogs to their forever homes in Michigan.
2012 has just begun but since these two months 15 large size dogs have been adopted and three more will travel soon to new homes.
From misery to happiness, these are the stories of six dogs that were rescued because of your support!
Chippers was found in the south of Lebanon, chained to a tree, with no shelter from the sun and rain, where he was an obvious and easy target for a group of young boys.

He was already in poor shape with badly infected skin and ears. Things became even worse when the boys let their dog attack him. He was rescued in the nick of time and within one month of his rescue he was already in the States. His situation sure changed when he made it to a live TV show to be one of the Oscar red-carpet dog!
Click here to watch the video.

Ashtarout was found tied to a pole under the sun and being abused by some kids. She had an injury to her leg, a dislocated shoulder, and was severely malnourished. After lots of care and love, she eventually turned out to be a beautiful mixed husky with lots of affection of her own to give. She is now adopted by a caring couple in the US.
Alfie was found wandering the streets, thin and limping. He was taken in and checked by a vet who confirmed an old injury in his shoulder that can be treated but needs time to heal. He has a wonderful character, is very friendly and affectionate, has a lot of energy, and loves to run around and play. He has captured the hearts of everyone who meets him.
Billy was crossing the street and almost got hit by a car when one of Animals Lebanon's founders spotted him. She stopped the traffic and scooped him up and into the car quickly.
We tried to understand Billy's background and found out he had been kept in a tiny cage throughout his first months which left him with deformed paws. Within two months he made it to the US, and Billy is now a very sweet puppy.
Hope was the only survivor of a group of dogs that were shot during one night. His story was extremely sad but despite the suffering he went through he is one of the most affectionate dogs we have ever encountered. Read more about Hops rescue here.
Angel was being fed by a kind lady every day, but one day when the lady came to give food Angel was lying on the ground motionless and suffering.

It turned out she was seriously injured with many wounds on her thigh and lower abdomen. Angel had lots of behavioral issues due to her accident but with good training and lots of love she has learned to trust again.