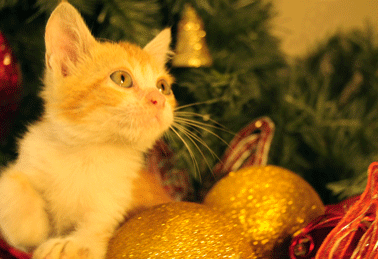 Little Moyebi was abandoned as a tiny kitten, only days old.  Lifeless and barely breathing, hourly care by the staff and volunteers of Animals Lebanon brought him back to health and gave him his first chance to truly be a playful kitten.
Moyebi is now full of life and love, and will spend his first holiday season with the warmth and care of his new family.
Moyebi is just one of the many animals we have rescued, brought back to health, and placed in a loving home.
In the few short months since Animals Lebanon became a registered charity we have started the first ever TNR program in Lebanon, and have become deeply involved in supporting our community through animals.
During this time of goodwill, Animals Lebanon has two special offers to make your support go the extra mile.  With your care and contribution, we will end this year on a wonderful note for our animals, and have a great kick-start to 2009.
Here?s How You Can Make A Difference This Christmas:
For your donation of $20 or more you will receive a special holiday card to give as a gift to your loved ones.   Make an ethical gift in someone?s honor and give them the Animals Lebanon holiday card featuring Little Moyebi ? a present that is truly touching!
If the card is not for you, you can ask us to ?add 40%? to your donation.  Throughout December, the Founders and Director of Animals Lebanon will personally add 40% to your donation.  If you give $100, then Animals Lebanon will add $40, give $1,000 and we will add $400.  Your support during this time can do more than ever before!
Click here to add your support, and don?t forget to choose the holiday card or to 'add 40%' to your contribution. Donate before January 1st and your generosity will do so much more!
Animals Lebanon ? wishing you,your pets and all animals happiness and health this holiday season.
Click here to read more about Little Moyebi' s story.