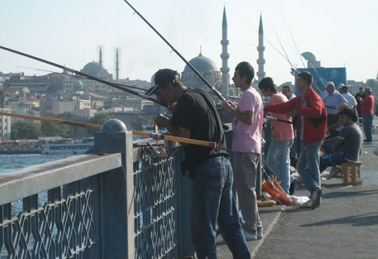 New regulations will restrict fishermen in Turkey from catching juvenile fish and using dragnets in shallow waters. But environmentalists say the laws don?t go far enough.
The new fishing season in Turkey will kick off in just a few days, on Sept. 1. In preparation, Turkey?s Ministry of Food, Agriculture and Livestock has proposed new fishing legislation, raising the length of legal catches and the depth of legal dragnet use, according to independent media center Bianet. Slowing the extinction of a species
One fish that will benefit from the new laws is the turbot, which is an endangered species, according to Greenpeace Mediterranean Oceans Campaigner Banu Dökmeciba??.
Under the new laws, the length of a legal turbot catch will be raised from 40 centimeters to 45. It seems like a trivial change, but those extra five centimeters will mean many more juvenile turbots stay in the water and have a chance to breed, boosting the overall population.
To further encourage prolific breeding in the species, turbot hunting will be restricted between April 15 and June 15.
The legal length of sea bream and sea bass will also be raised, from 20 to 35 centimeters and 18 to 25 centimeters, respectively.
The use of dragnets, meanwhile, will be banned around the Princes? Islands, the Gulf of ?zmit, and the Bay of Büyükçekmece, all of which are in the Marmara Sea off the southern coast of Istanbul. In areas where the nets can still be used, the depth of the water must be at least 24 meters, up from the 18-meter depth previously required by law.
If approved by the Prime Ministry, the laws will remain in effect for the next four years.
Struggle for sustainable fishing not over yet in Turkey
Greenpeace Mediterranean has been campaigning for laws against the capture of juvenile fish since 2010.
Hundreds of thousands of Turks have petitioned, texted, and made phone calls to their government about the issue through Greenpeace?s efforts.
While the new regulations are certainly an improvement over their predecessors, they still lag behind the regulations recommended by Greenpeace ? and followed in other parts of the world.
In European Union countries, for example, dragnet fishing is banned in waters shallower than 50 meters.
And while restricting dragnet use in certain parts of the Marmara Sea is a positive step, the entire sea should be designated a conservation zone, according to Greenpeace Oceans Campaigner Dökmeciba??.
Beyond making these laws, moreover, the government must ensure they are enforced, Dökmeciba?? told Bianet. The hunting and sale of juvenile bluefish was banned in Turkey last year, she pointed out, but the law was rarely enforced because of a lack of inspection.
In addition, Turkey has suffered from a spike in illegal fishing gangs, who occasionally turn violent when environmentalists attempt to intervene. The government has managed to cut down on the problem significantly in recent months, however, Dökmeciba?? says.