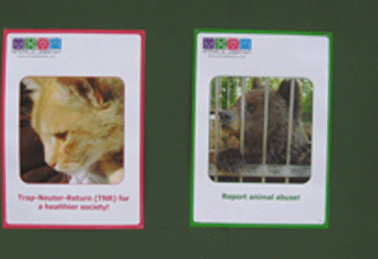 This April, Animals Lebanon joined more than 40 other NGOs and community groups to participate in in the 'Volunteer Day' event help at AUB - the American University of Beirut.
The two day event, organized by the Center for Civic Engagement and Community Service, was held on the beautiful campus of one of the most respected universities in Lebanon.
AUB generously provided a great location for Animals Lebanon, and we were able to distribute flyers and brochures, while getting some of the best students interested in our work. The engaging stand covered in pictures of our work and animals we have rescued, combined with the enthusiasm of Animals Lebanon?s volunteers, generated a large crowd.  It was encouraging to see so many young adults showing true interest and eagerness to join our ever growing team and help fight for animals.
Animals Lebanon wishes to thank AUB for offering us the opportunity to offer its students the chance of learnign about our organization and that they are not alone in their concern and love for animals.  These students will help shape the future of Lebanon, and we are proud to know that so many will be a part of Animals Lebanon.