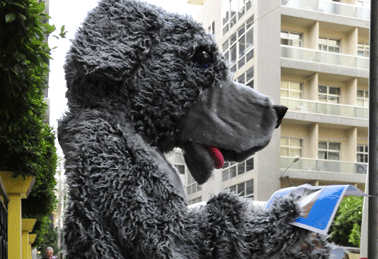 This October 4th, Lebanon Celebrated World Animal Day with Animals Lebanon and Lana El-Khalil, the Lebanese Ambassador for World Animal Day.
Animals Lebanon founders, staff and volunteers came together throughout Beirut to speak up for the animals.  Awareness fliers, white ribbons symbolizing the support to animals, and balloons were given to people.  Volunteers were out walking dogs, letting people learn how dogs make a great addition to any home, and a volunteer in a dog costume attracted many new people who had never heard of World Animal Day.
The day ended with a great surprise as a Harley Davidson team invited us onstage with them added their ?muscle? to ensure the movement reached hundreds more people.
A big thank you to MIX FM, Future TV, LBC and all the newspapers and magazines who helped make people aware of how we can all benefit when we treat animals with respect.
Previous Announcement
Lana El-Khalil, President of Animals Lebanon, leads the way in celebrating World Animal Day this October 4th.
Appointed as the Lebanese Ambassador for World Animal Day, Lana is part of a group of more than 50 Ambassadors worldwide taking one day out of the year to raise the profile of just how important animals are.
?We work constantly to improve the conditions of animals throughout Lebanon.  The 4th of October gives special recognition to animals, and I firmly believe this helps move the entire animal welfare movement forward,? said Lana El-Khalil.
Unfortunately, Lebanon is behind many of the other countries in the Middle East in the way it treats its animals.  Hundreds of pet shops sell local wildlife or keep dogs and cats in miserable conditions, new zoos have opened in recent years, and endangered animals are smuggled into the country.
?Animals Lebanon understands that not everyone has the same passion as our organization,? continued Lana, ?but setting aside one day out of the year is a way to get everyone in Lebanon involved and active about an issue which directly affects our lives.?
Delegates from Animals Lebanon are attending a regional workshop in Syria organized by the World Society for the Protection of Animals and another conference in Jordan organized by the European Commission, with World Animal Day celebrations happening at both conferences.
Volunteers and members of Animals Lebanon will be out in Beirut on October 4th letting people know how any individual can make a difference.  Posters will be put up throughout the city and thousands of flyers handed out, explaining to the general public how they can not only make a difference for animals, but how this difference makes Lebanon a better place for everyone.
Listen to MixFM to hear Lana speak about World Animal Day, and look for her on Future TV with a few special animals and highlights of the work done by Animals Lebanon over the past year.