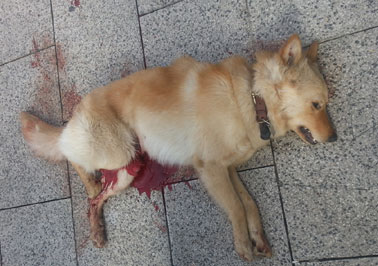 On Sunday, 27 January, a dog named Whiskey was repeatedly shot and killed while walking on Beirut's Corniche.
The 11 months old dog was being walked by a friend of Whiskey's guardian and has walked in this area many times. We were shown video footage and pictures of Whiskey taken in the last couple of months and the dog seems friendly and very comfortable around people.
According to Whiskey's guardian, the dog was being walked without a leash when Whiskey approached a man and his daughter.
Just before noon, on this warm Sunday when hundreds of people are out enjoying by the sea, a gun was fired approximately 12 times with a number of these bullets entering or passing through Whiskey's body and killing him instantly.
The dog fell on the Corniche and a pool of blood formed as it flowed from the bullet wounds.
Two or three people who were in the area seem to have been injured as the bullets or bullet fragments ricocheted off the ground or passed straight through the body, and had to seek medical treatment.
All this took place in the middle of one of the busiest days in front of families and others out having fun.
There seems to be no disagreement about any of this, but the there are differing stories of what took place in the moments before Whiskey was shot.
Some say that Whiskey was just playing and that the person shot him because he got too close. Others say that the man shot him as he was scared for his daughter or himself, and yet others say the dog tried to attack him and his daughter.
We understand from the guardian that both he and the person who killed Whiskey have made police reports.
There were many people in the area, it should be possible to better piece together this story, and we urge anyone with information, pictures or video footage about this to call or email us so we can figure out what triggered this shooting.
The outcome of this will likely be determined in the courts, and the implications could be far reaching.
Did Whiskey attack or act aggressively, was he shot out of fear or confusion, was he killed for some other reason, were other options available, or was this completely uncalled for and avoidable? Will Whiskey be treated as 'property' under the law, or will outdated animal welfare stipulations be considered?
What happened to Whiskey, and sadly far too many other animals, again highlights the importance of examining how we think about animals in Lebanon and their importance to humans. Livestock have been stuck at the port for months, cows are driven down highways in the back of cars, pet shops sell all species, lions and tigers are paraded around downtown, and the country has not yet fully adhered to international conventions. It is even more saddening that such abuse continue to occur as Lebanon used to be a regional leader for animal welfare.
Animal welfare is human welfare, and making improvements in the way we treat animals can bring direct benefits to humans. What happened on Sunday with Whiskey only underlines how drastically things can be when we look at this issue differently.
Too often we see stories of abuse, but importantly we are also to a turning point where very progressive changes are coming.
Some years ago there would not have been an NGO even discussing this, it would have only been 'one of those things' that happen here, and there would not have been such a significant part of society genuinely interested in these issues and their outcome.
We will keep you updated as we continue to meet with Whiskey's guardian and follow up this case, and its outcome can be as significant as the horrible actions that took place.